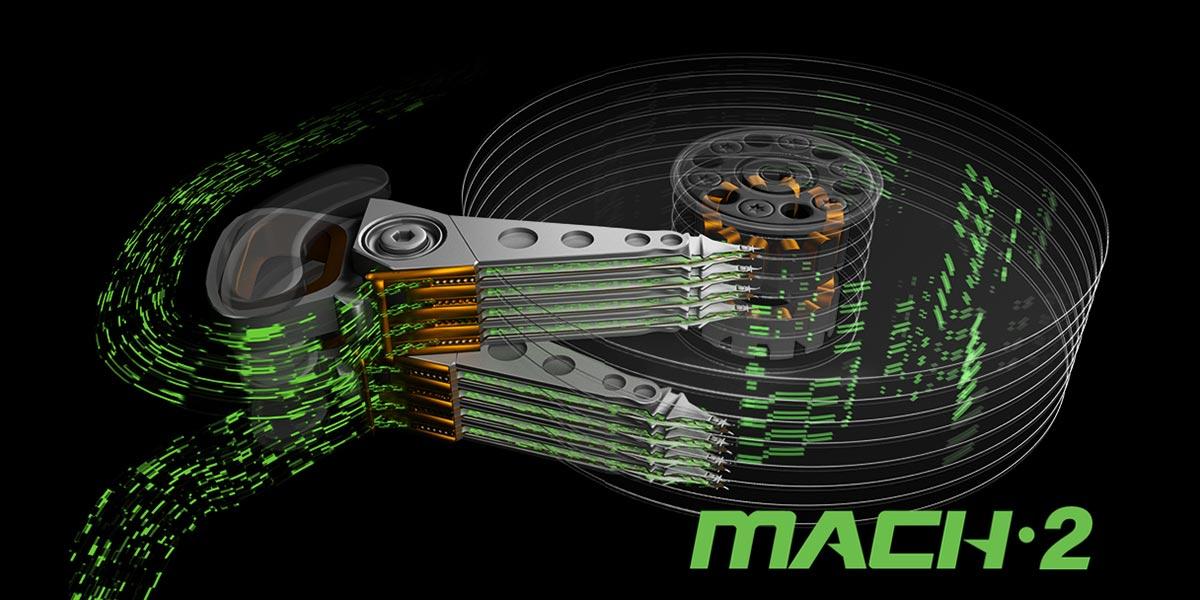 This week, Chris and Martin look at the dual actuator drive technology developed by Seagate, also known as MACH.2. This conversation with Colin Presly and Tim Walker digs down into the detail of the hardware implementation and the operational aspects of deploying a hard drive that acts as two physically independent units.
Dual actuator technology was developed to overcome the performance limitations of traditional hard drives. Over the years, drive capacities have increased almost exponentially, while performance has followed a linear track. MACH.2 divides the read/write heads of a traditional drive into two separate components, each of which can access their respective disk platters independently.
Dual actuator technology introduces some operational challenges for customers. Although the drives act as two unique LUNs on a SAS bus, the physical connectivity requires some thinking around data resiliency and performance optimisation. Unless both actuators are fully utilised, customers won't see the 2x benefit in performance boost from the technology.
Seagate has worked closely with partners like Microsoft to ensure MACH.2 delivers to the needs of hyperscalers. SDS vendors have also taken an interest, so we can expect to see the technology in a wide range of use cases.
You can find more details on MACH.2 at the Seagate landing page (https://www.seagate.com/gb/en/solutions/mach-2-multi-actuator-hard-drive/) and in this post with Microsoft – https://blog.seagate.com/enterprises/microsoft-nearly-doubles-iops-seagate-exos-mach2-dual-actuator/
Elapsed Time: 00:42:18
Timeline
00:00:00 – Intros
00:01:10 – What is the Seagate Dual Actuator drive? (Mach2)
00:04:00 – Flash is encroaching the high-end of drives
00:05:15 – Customers want deterministic performance
00:06:45 – What is an "actuator"?
00:10:00 – Multi-actuator can introduce vibration
00:11:50 – Drive heads float above the disk in Angstroms
00:12:50 – Do drives still read/write at the cylinder level?
00:15:10 – Two actuators doubles performance
00:16:40 – Both parts of the drive are effectively independent
00:19:00 – Multiple features ensure the drive acts as two entities
00:21:20 – Deployment scenarios – desktop, hyper-scaler and hardware RAID
00:22:30 – How is AFR affected by running two drives?
00:25:00 – Drive reliability is not reduced by having dual actuators
00:26:10 – Drives have LUN-based and device-based characteristics
00:27:55 – Microsoft asked for independent devices in Azure
00:29:10 – SDS vendors are interested in dual actuator drives
00:30:25 – How will SATA and NVMe interfaces be managed?
00:35:00 – LBA performance is non-uniform with new drive types
00:37:00 – Hyperscalers want to eliminate tail latencies
00:38:30 – Applications – CDNs, tiering, hyperscale
00:39:25 – Will we see multi-actuator drives?
Related Podcasts & Blogs
Bios
Colin Presly is a Principal Engineer, currently working on emerging technologies in the CTO Office of Seagate Technology. He has spent the last 4 years leading the product-development of Seagate's first dual-actuator HDD, from advanced development to qualification and launch. Colin has a background in HDD product design and HDD test-equipment design, with an emphasis on servo-mechanical systems. A graduate of Imperial College London, Colin started his career developing optical positioning systems at IBM (UK). Colin lives in Minneapolis with his wife and 3 kids.
Tim Walker is a Principle Storage Engineer with Seagate Technology. He works closely with many of Seagate's key customers integrating new storage technology, including shingled magnetic recording, NVMe, multi-actuator, and HAMR. Tim's interests include scale-out storage architecture, object store, NVMe, and zoned block storage. He lives in central Florida with his wife, two worthless cats, and a Boston Terrier.
---
Copyright (c) 2016-2022 Unpacked Network. No reproduction or re-use without permission. Podcast episode #l4cy.
Podcast (storageunpacked): Play in new window | Download