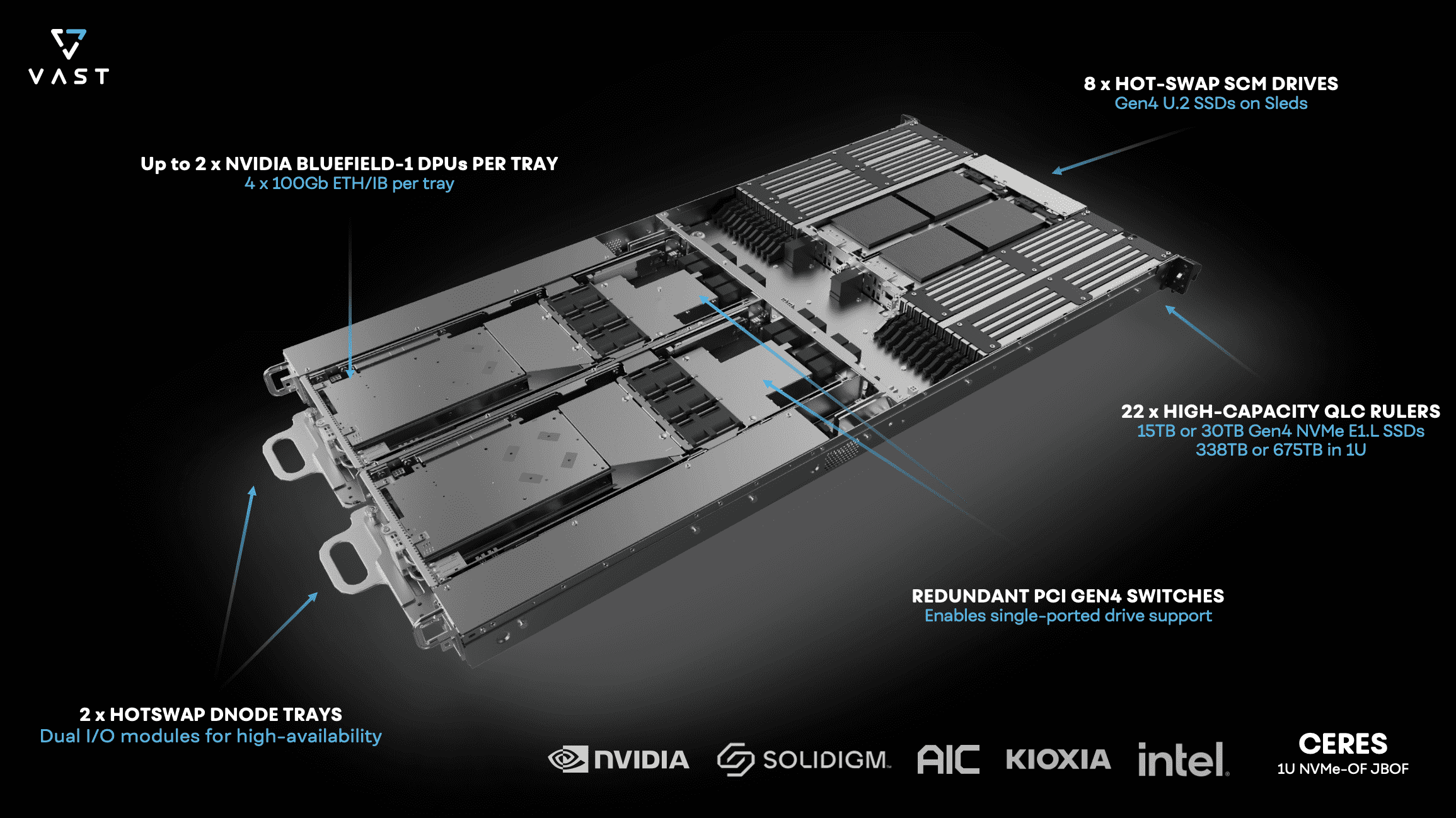 In this episode, Chris is in conversation with VAST Data CMO, Jeff Denworth. The topic covers the recent announcement of Ceres, a new hardware platform combining ruler form-factor flash and BlueField DPUs. The new solution, which will eventually replace the current "Mavericks" D-boxes is a 1U system with flash, storage-class memory and network connectivity through DPU SmartNICs. The design can be vastly simplified compared to other storage solutions as the hardware component simply presents storage as drives over NVMe-oF. A single 1U system supports up to 22 ruler drives, with a capacity of 675TB.
Jeff also discusses the certification of VAST Universal Storage with NVIDIA SuperPods. The certification process confirms the suitability of storage systems to operate in the highest scaling SuperPod DGX systems, crucially offering customers a path to support. The certification is expected to be completed in Q3.
As Jeff highlights towards the end of the discussion, Universal Storage addresses many modern application requirements. Customers are only just starting their journey to learn what the VAST platform has to offer.
To find out more about Ceres, head over to https://vastdata.com/ – we've also added links to previous podcasts and content at the end of these show notes.
Elapsed Time: 00:31:04
Timeline
00:00:00 – Intros
00:01:35 – What is Ceres? (In VAST terms)
00:03:10 – Ceres uses "ruler" flash and DPUs
00:03:45 – Ceres will replace "Mavericks"
00:04:05 – What are the benefits of the "ruler" flash format?
00:05:20 – 48/60TB ruler capacities could come soon
00:07:30 – Base unit is 22 drives, 675TB capacity – in 1U
00:08:55 – A PCIe switch connects drives and DPUs
00:09:30 – The BlueField DPUs expose NVMe devices to the network
00:10:45 – Ceres enables the DASE architecture
00:12:20 – Scalability is achieved through additional Ceres shelves
00:13:35 – Disaggregation is possible now, with faster networks
00:14:15 – Other deployment modes will come along – including cloud
00:14:40 – What is SuperPod?
00:16:05 – How is VAST supported on SuperPod?
00:16:55 – Universal Storage is the first NAS system for SuperPod
00:18:25 – SuperPod certification is also about gaining support
00:20:30 – Legacy design required cores to scale lanes
00:22:40 – Is storage starting to centralise?
00:24:55 – It's good to be protocol independent
00:27:20 – Customers are looking for simplicity of operation
00:29:20 – Single systems are eclipsing 100PB – petabytes
00:30:15 – Wrap Up
Related Podcasts & Blogs
---
Copyright (c) 2016-2022 Unpacked Network. No reproduction or re-use without permission. Podcast episode #w3e4.
Podcast (storageunpacked): Play in new window | Download